How to Deal with Anger: a 5-step CBT plan for managing anger and overcoming frustration. (2016 Isabel Clarke), published by John Murray Learning.

Psychosis and Spirituality: Consolidating the New Paradigm, 2nd Edition
The Second Edition of Psychosis and Spirituality — now 'Consolidating the New Paradigm' — is essentially a new book
With 5 chapters by new authors (including David Lukoff and Les Lancaster) and 6 of the chapters by continuing authors completely rewritten, this new edition brings the area right up to date and covers the explosion of new research, qualitative as well as quantitative, and exciting clinical developments.
Now available on Wiley's lists.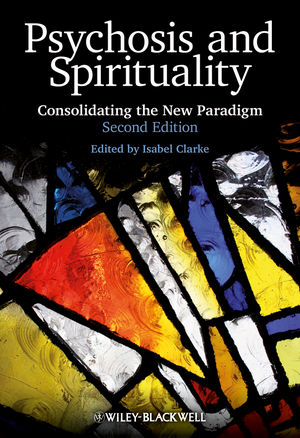 'Spirituality is the key strand that unites the great variety of cultural understandings of psychosis with recovery. This text contains contributions from leading authorities in the field; it points towards a more complete human approach to psychosis, and challenges long-held assumptions about the nature of human experience. It should be read by all mental health practitioners and students, and will be of interest to academics in theology, anthropology and philosophy, as well as service users and carers.'
—Professor Philip Thomas, University of Bradford, UK
The new edition of this successful text builds on the very latest research to present a unique exploration of the psychology of both spirituality and psychosis. The editor brings together fascinating perspectives from a broad range of distinguished contributors, including Peter Fenwick and Gordon Claridge, to develop and support the link between these two areas of human experience. This text offers a fundamental rethinking of the interface between psychosis and spirituality, proposing new and original insights.
Since the publication of the first edition, there has been an increased momentum to this field, which in turn has enabled a more hopeful and less stigmatizing perspective on psychosis. The second edition reflects the most recent body of qualitative and quantitative research, and the latest clinical initiatives. This has led to the addition of ten new chapters, and an expanded clinical section, which will be highly relevant to clinicians working with psychosis.
This new perspective will be important for those with a professional interest in both psychosis and spirituality, such as therapists and priests, in addition to those seeking a well-grounded framework for their own personal explorations in this area.
---
Madness, Mystery and the Survival of God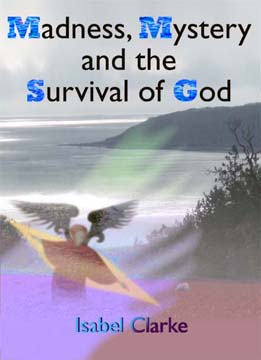 Why do people still believe in God and the supernatural in a scientific age?
How come madness and mysticism are so similar?
What can we learn from this?
Psychological science offers an intriguing new perspective on these questions: one that relates the great challenges that face us, whether of ecology or fanaticism, to our basic limits as human beings.
It is a perspective that places human beings in the context of relationship with a larger and ever mysterious whole.
More details
Chapter list and extract
Review
Do read it!
You can order it from the library or from your local bookshop; get a copy through Housmans radical book service).
Let me know what you think!
If you have a local group interested in spiritual, therapy, mental health or related topics that would like a talk on it – do get in touch with me.
---
Cognitive Behaviour Therapy for Acute Inpatient Mental Health Units
Working with Clients, Staff and the Milieu
Edited by Isabel Clarke, Hannah Wilson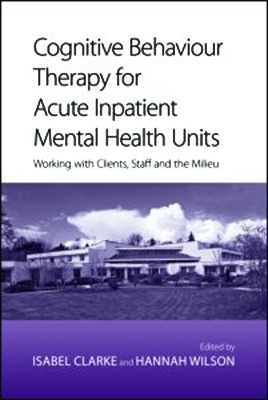 Cognitive Behaviour Therapy for Acute Inpatient Mental Health Units presents innovative ways of delivering CBT within the inpatient setting and applying CBT principles to inform and enhance inpatient care.
Maintaining staff morale and creating a culture of therapy in the acute inpatient unit is essential for a well-functioning institution. This book shows how this challenge can be addressed, along with introducing and evaluating an important advance in the practice of individual CBT for working with crisis, suited to inpatient work and crisis teams.
The book covers a brief cross-diagnosis adaptation of CBT, employing arousal management and mindfulness, developed and evaluated by the editors. It features ways of supporting and developing the therapeutic role of inpatient staff through consultation and reflective practice.
See
Routledge web site
for more details and ordering.