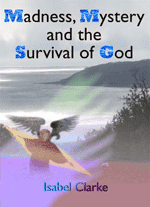 Click for information
My work spans two areas: psychosis and spirituality, and clinical psychology. Both draw on the research based Interacting Cognitive Subsystems model of cognition, and both seek to bring spirituality into centre stage, founding it in cognitive and other research and theory, and regarding it as a central part of what it means to be human.

Recently I have been developing Comprehend, Cope and Connect (CCC - until recently known as Emotion Focused Formulation Approach, EFFA) in the diverse contexts of Acute, IAPT and Culture Free Adaptation.
See "ICS Underpinning 3rd Wave CBT" for more details.



Click for information
NEWS!

Just out. January 2018:




Third Wave
CBT Integration
for Individuals
and Teams
COMPREHEND, COPE AND CONNECT
Isabel Clarke and Hazel Nicholls
Third Wave CBT Integration for Individuals and Teams
www.routledge.com/mentalhealth

Our first paper describing and evaluating the

Acute Mental Health

initiative* has been published.

David Araci & Isabel Clarke (2017): Investigating the efficacy of a whole team, psychologically informed, acute mental health service approach,

Journal of Mental Health Journal. 26, 307-311.

(*Now known as COMPREHEND, COPE and CONNECT)

Watch out for the second which is a qualitative study of staff reactions. Research on service user feedback is in progress.



How to Deal with Anger

: a 5-step CBT plan for managing anger and overcoming frustration. (2016 Isabel Clarke), John Murray Learning



Forthcoming.



Acute and Crisis Network of the PCMH Faculty presents:

Towards Developing Psychologically Lead Acute Services: The Comprehend, Cope and Connect book and the role of the Approved Clinician for Clinical Psychology within the Acute Inpatient Wards.

Date & Time: Thursday 19th April 2018, 10:00 to 16:30 


Venue: BPS London Offices, 30 Tabernacle Street, London, EC2A 4UE
Recent Events
DCP Annual Conference 2018. CARDIFF
17 – 18 January 2018. Mercure Cardiff Holland House Hotel.
I will be contributing the following paper:
The Complexity Gap. Developing a service for those who fall between Primary and Secondary Care.
To the Symposium: Personality Disorder Complexity. Working with people who have personality difficulties.
And
Co-facilitating a workshop with Lucy Johnstone:
Working in diagnostically-based systems: challenges and strategies.
I am contributing to this programme around a community screening of Crazywise:
Saturday 20 January, 2pm – 6pm, The Station, Bristol, BS1 2AG
This community screening of award-winning film C R A Z Y W I S E will be include speakers, debate and snacks.
The event aims to bring together people who experience psychosis, those close to them, health professionals, activists and researchers to build a new narrative where thriving and resilience are a potential outcome, rather than hopelessness and stigma.
24th November 2017 I am presenting a workshop for:
BABCP North East and Cumbria Branch
"Taking Experience Seriously in Psychosis"
CRAZYWISE CONFERENCE
Exploring Wisdom in Madness
Rotterdam. 02.12.16



I will be chairing and presenting on: Psychosis and Spirituality Re-evaluated.
More Information
I will be giving a talk, title: Schizotypy and the Experience of Transliminal Phenomena
at the Royal College of Psychiatrists' Special Interest group in Spirituality Conference:
'
Hallucinations and Spiritual Experiences: Voices, Visions and Revelation'
Date Friday 25th November 2016
Time 10:00 – 16.30
Type Conference
Venue RCPsych, 21 Prescot Street, London E1 8BB
Programme
**********************************************************************************************************
BPS Transpersonal Section Annual Conference. "Spirituality, Psychology & Wellbeing: Transpersonal Psychology in Practice"
17th - 18th September.Highgate House in Northamptonshire. Other keynotes: William Bloom
Glenn Hartelius and Itai Ivtzan
***********************************************************************************************************************************



******************************************************************************************************************************************
BABCP 44th Anual Conference. Symposium on
Psychologically Informed Acute Care: A Whole Service Approach.
The Emotion Focused Formulation approach in Hampshire, Surrey Borders, Sheffield and Edinburgh.
15th - 17th June. Belfast. Waterfront Centre.
***************************************************************************************************


*******************************************************************************
XX Annual Course of Schizophrenia.
"IMAGINATION, REGRESSION AND RECOVERY IN PSYCHOSIS
Madrid 26th – 28th November 2015
SPEAKERS

J. Strauss, L. Davidson, P. Lysaker (USA),
I. Clarke (United Kingdom), R. Mezzina (Italy),
M. Hernández Monsalve, G. Lahera (Madrid),
JM. Blanqué, M. Montoro (Barcelona), G. Roldán (Granada),
L. Tost, C. Hdez A. de Sotomayor (Tenerife),
y M. González de Chávez (Madrid)

For the full programme see:
www.cursoesquizofrenia.com

Links to my presentations:
Presentation 1:
Bringing psychosis in from the cold. Seeing anomalous experiencing in the wider context of human cognition .

Presentation 2:
"What is real and what is not". A therapeutic approach to psychosis that takes experience seriously and undermines stigma.





*****************************************************************************************************